Skoda has finally unveiled the production-spec Kushaq, its first made-in-India SUV. While the official launch is still a few months away, the specifications and various features of the Kushaq have been revealed. Let's see how the SUV fares against its rivals on paper:

The Nissan Kicks is the biggest SUV here in terms of length, width, height, and wheelbase. While the Skoda Kushaq has the second-longest wheelbase, its other dimensions are smaller than those of its rivals. The Kushaq offers the least boot space, whereas the Creta-Seltos duo offers the most. Nissan's SUV also has the highest ground clearance here.

Since the Kushaq is a petrol-only offering, we're only looking at the petrol-powered variants of its rivals.
All models are provided with the choice of two petrol engines, and in the Kushaq, they're both turbocharged. Like the Seltos, the Kushaq offers both its engines with a choice of manual and automatic transmissions. The Kushaq's 1.5-litre turbo-petrol motor generates 150PS and 250Nm, second only to the Nissan Kicks's 1.3-litre turbo-petrol motor that pushes out 156PS and 254Nm. Output figures of the Kushaq's smaller engine (with the least displacement in the segment) is on par with the Creta and Seltos' 1.5-litre naturally-aspirated petrol engine. However, there's more torque on offer with the Kushaq. The Nissan Kicks's 1.5-litre naturally aspirated unit offers the least power at only 106PS, 50PS less than that of its 1.3-litre turbo-petrol motor.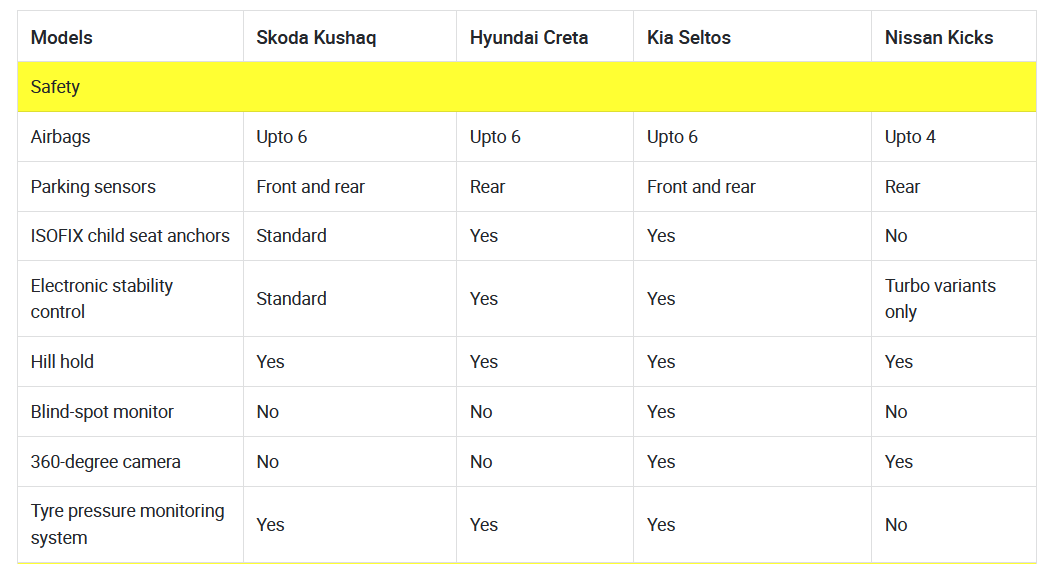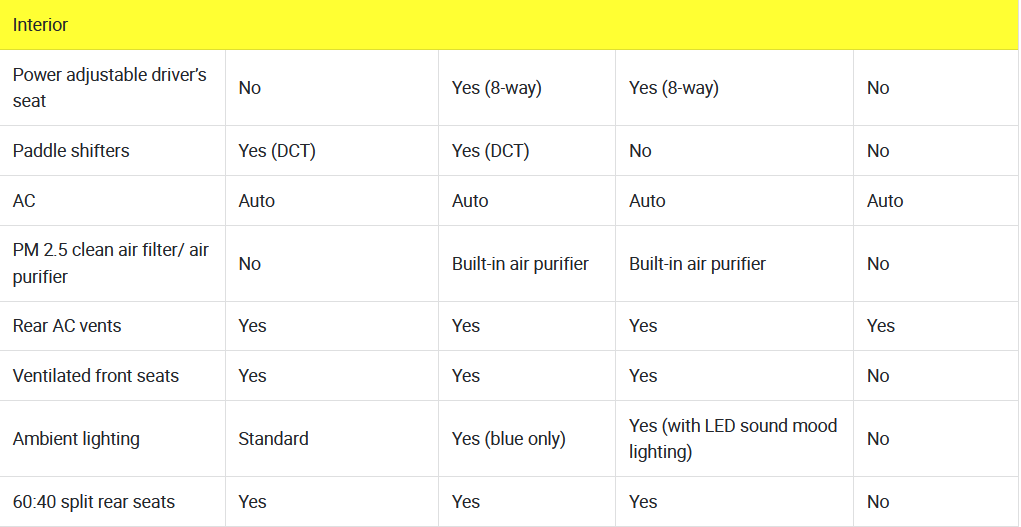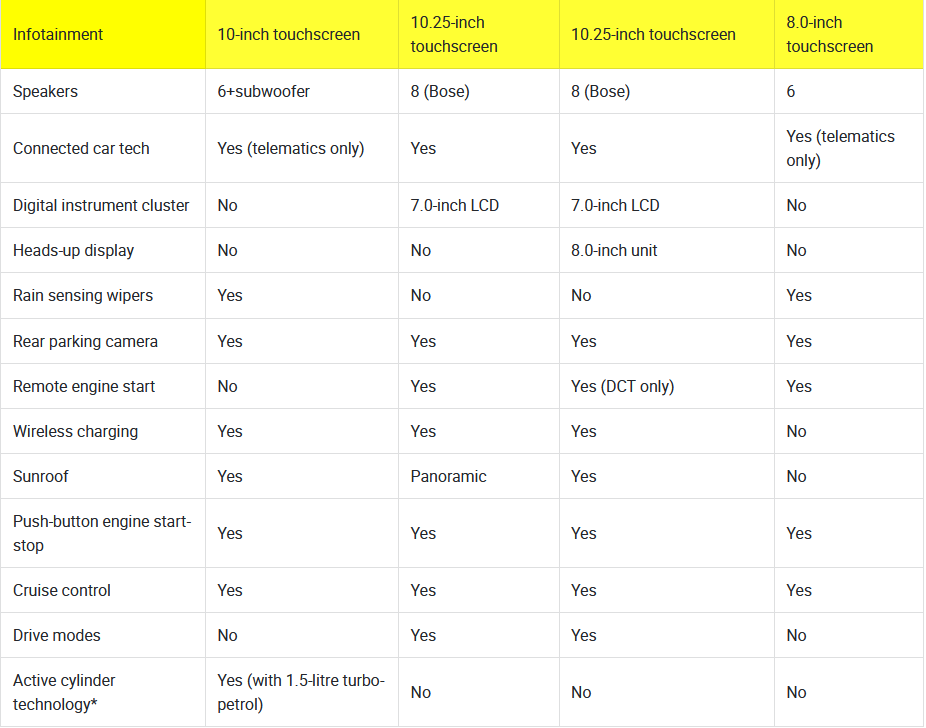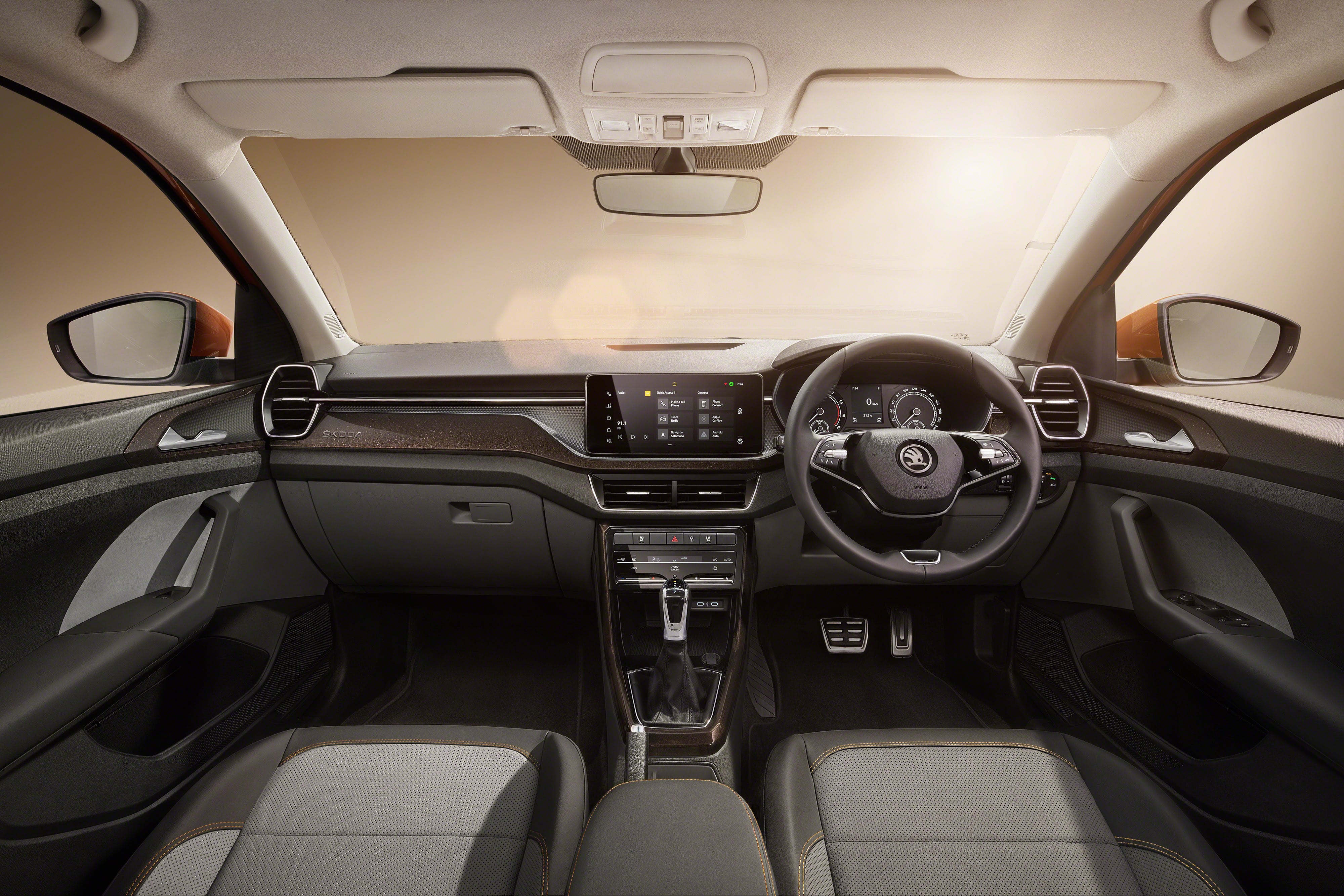 The Skoda Kushaq is a pretty well-equipped SUV with premium comforts such as ventilated front seats, six airbags, a sunroof, a 10-inch touchscreen infotainment system, and touch controls for the climate control panel. It also gets Active Cylinder Technology (ACT) with its 1.5-litre turbo-petrol motor. The ACT senses driving behaviour and accordingly shuts down two of the four cylinders for improved fuel efficiency. The Kushaq does fall short of its rivals in some areas.
X-Factor:
It misses out on features like a digital colored instrument cluster or large LCD in the gauge cluster, a power-adjustable driver's seat, remote engine start, 360-degree parking camera, and a built-in air purifier. In this segment, only Kia offers a head-up display, while the Hyundai Creta is the only compact SUV to get a panoramic sunroof.
Prices:

Verdict:
Though cars other than Skoda Kushaq are available in the market right now, one must wait to get hands-on experience on the vehicle in order to significantly clarify the pro's and con's. but we think Skoda Kushaq can be the game-changer in terms of ride quality and safety